Collating your favorite kitchen ideas is a priority – and always the fun bit – when rethinking your new-look kitchen. These ideas – whether kitchen looks you like, surface materials or cabinetry styles – can then be worked into your ideal layout, the practical key to getting your kitchen right. A kitchen can, after all, look fantastic but if it fails to function as a workspace, it can be hugely disappointing.
These kitchen ideas are our very favorites – you can save the images you love, then start the hard work: looking at everything, from where to put your recycling to how close your oven is to your food store (after all, you don't want to end up walking the length of the kitchen every time you need an extra ingredient).
If you're using a kitchen designer, they will be able to advise on kitchen decor ideas that look good and work perfectly, too. But, it always helps to go to them with your own kitchen ideas. Every one of our kitchen pictures is different but most suit one of the five basic layouts.
From cabinets and lighting schemes to backsplashes and flooring, these kitchen ideas cover everything you need to think about. You can use them, too, to inspire your kitchen layout idea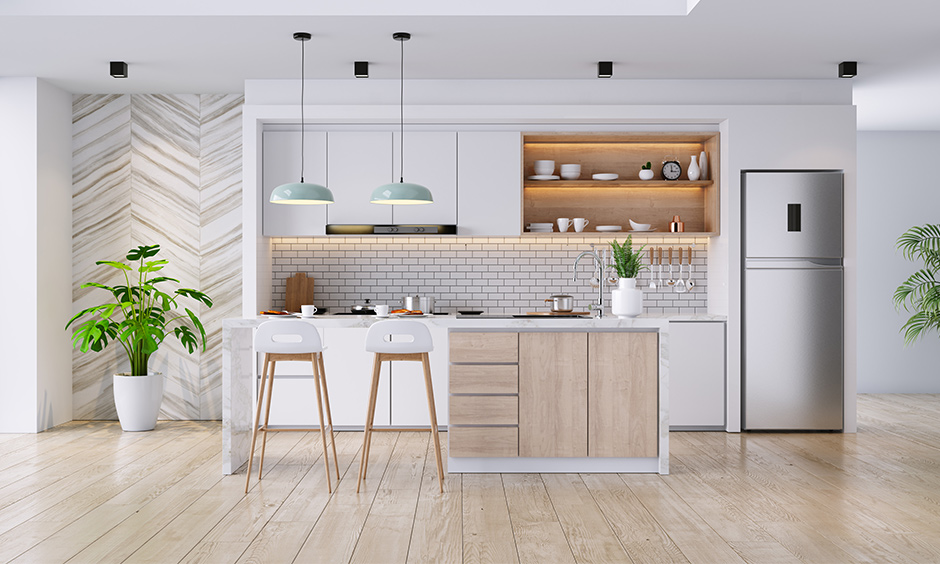 Create a kitchen decor scheme with character
If there's one thing the pandemic has taught us, it's that kitchen ideas that promote a feeling of homeliness make us happy. 'Homeliness' means different things to all of us – some like minimalism, others a more decorative feel.
For interior designer Cortney Bishop, it's about layering with, for example, rugs, choosing characterful cabinet fronts, and keeping countertops clear, to give cherished personal belongings space to be displayed: 'Showcase your personal style – whether it's displaying pottery, a vase of beautiful florals, or a unique basket or tray,' she says when sharing her kitchen styling tips. 'I always recommend to design with intent and function. Less is sometimes more, but not always.'
Reinvent rustic kitchens with moody shades
In tune with general kitchen trends towards creating homely spaces, rustic kitchen ideas are more popular than ever. And while white or cream color schemes are still predominant, with blue and green following close behind, deeper, moodier, earthier cabinet colors are gaining popularity – especially when combined with warm wooden tones and freestanding pieces.
'The best way to tie together older pieces with new elegant cabinetry is to use vintage inspired hardware and taps,' says Jen & Mar, co-founders of design agency Interior Fox.
Add pattern to a kitchen with wallpaper
Companies such as Little Greene and Morris & Co are championing the return of wallpaper to the kitchen. Kitchen wallpaper ideas include modern designs, of course, but those with the most impact have a heritage appeal – playing to that desire to make kitchens feel just as decorated as living rooms.
'Kitchen wall decor ideas are admittedly tricky – it's vital to ensure that the design you choose is moisture-resistant – or that your decorator has come up with a solution for giving the wallpaper you have set your heart on some moisture-resistance,' says Lucy Searle, Editor in Chief of Homes & Gardens. 'That said, there are many beautiful kitchen – and bathroom – ready designs that will elevate your space from plain to personalized.'
Rethink fabrics for a kitchen, too
If the kitchen ideas you are putting in your scrapbook – virtual or otherwise – are bursting with pattern and color, then your next option might be kitchen curtain ideas. Just as with wallpaper, the fabrics you choose must be able to withstand moisture from cooking, and splashes and sticky fingers, too, if you have young children.
And it may be that you want to limit to curtain fabrics to a doorway, as in the kitchen above, choosing blinds for more practical window treatment ideas. 'One simple curtain treatment can make a kitchen feel cozier, more welcoming and colorful,' says Jennifer Ebert, Homes & Gardens' Digital Editor. 'Fabrics can also help with acoustics, which is often a problem in kitchens.'
Design a chef's kitchen
If you truly love cooking it makes sense that your kitchen ideas should be centered around functionality first. The growing interest in home cooking during the pandemic – and entertaining as we begin to emerge from it – has lead to the rise in interest in chef's kitchens – how they are laid out, the appliances they include and their practicality-first design approach.
'To make the cooking process seamless, every item should have a purpose and a place – you should be able to reach whatever you need almost without thinking about it so that you can focus on guests as well as cooking,' says chef Galton Blackiston, brand ambassador for kitchen designer Tom Howley.